Entertainment Production
RPI provides quality sound, staging, lighting, special effects, and more to make your event aesthetically and acoustically superb. The latest technology and equipment are at your fingertips.
Talent Booking & Negotiation
National recording artists, local groups, and speakers are available to you for large and small-scale concerts, conferences, and special events. Our long-standing relationships with celebrities and managers will prove invaluable to you. RPI is experienced in contract negotiations, accommodations planning, and itinerary coordination. Your talent booking needs, from start to finish, will be met efficiently.
Event Management
Our team of entertainment specialists is qualified to create and coordinate memorable events. From theme development to event management, RPI can help. Do you need a hotel, private estate, sports facility, or specialized venue? RPI is experienced at site selection and negotiation. Add to all of this an on-site manager to coordinate the details, and you are free to enjoy.
Security
RPI will access the professional, reliable security needed for your event, providing the personnel to ensure the safety of performers and participants. We use only highly qualified, experienced security agents who are trained to effectively meet your security needs.
Diversity in the Workplace Workshops (Corporate & Government)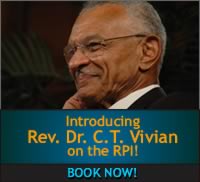 Workshops feature Dr. C.T. Vivian, once a Christian journalist but best known for his work on the staff of Rev. Dr. Martin Luther King, Jr.
Dr. Vivian is the founder of the C.T. Vivian Leadership Institute. His passion is preparing young men as leaders of tomorrow, while enhancing local communities for future generations.
Dr. Vivian's workshops will not only train you, but inspire you. Contact us for more information.
Visit the National or Local Artist pages to find talent. Contact us to book your upcoming event or discuss your next event.